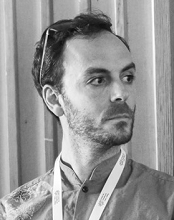 Cardiff University
&
Universitat Autònoma de Barcelona
---
---
---
Welcome to my academic webpage. I am a sociologist specializing in Japanese martial arts as global popular culture, with a specific focus on karate.
Currently, I am a Postdoctoral Fellow at the School of Journalism, Media & Culture at Cardiff University, and a Postdoctoral Research Associate at the Department of East Asian Studies at the Autonomous University of Barcelona. Previously, I have been a Japan Foundation Fellow (2021-2022) at the Faculty of Global and Regional Studies at the University of The Ryukyus, a visiting scholar at The Center for Research on North America at Universidad Nacional Autónoma de México (2021), a visiting scholar at The Center for Asian and African Studies at El Colegio de México (2020-2021), and a Francisco Ayala Foundation Fellow (2017).
I am also a member of the Research Project "The Japanese and South Korean Cultural Boom in Spain: Cultural, Political and Socioeconomic Aspects" funded by the Spanish Ministry of Science and Innovation, the Spanish State Agency of Research, and the European Union (ref: PID2021-122897NB-I00); and member of the Research Group GREGAL: Cultural Circulation Japan-Korea-Catalonia/Spain, funded by the Catalonian Agency for Management of University and Research Grants (ref: 2021 SGR 00558)., as well as part of the academic collective PopMEC: The US Representation in Popular Media and Culture.
My studies on the cultural history of Japanese martial arts range from historical sociology and folklore to cultural heritage and postmodern visual cultures. As a result of exploring karate, I also developed a fondness for Okinawan studies. An additional line in my research focuses on early boxing fiction literature. You can find more about my work here.
I hold a Ph.D. in Intercultural and East Asian Studies from the Universitat Autònoma de Barcelona (2020), obtained with cum laude and for which thesis I won the "Best Doctoral Dissertation Award" of the Spanish Association of East Asian Studies (AEEAO).
---
---